SCOTLAND'S YACHT WHISKY TOUR ON A YACHT
If you enjoy the oak tint of whisky just as we do, then we are surely companions in this journey.
We will set sail from the marina of town of Largs, where we will return in a weeks' time. You are best arriving to Glasgow or Edinburgh to reach this town. Ideally you would arrive few days early and leave few days later to enjoy those cities as well.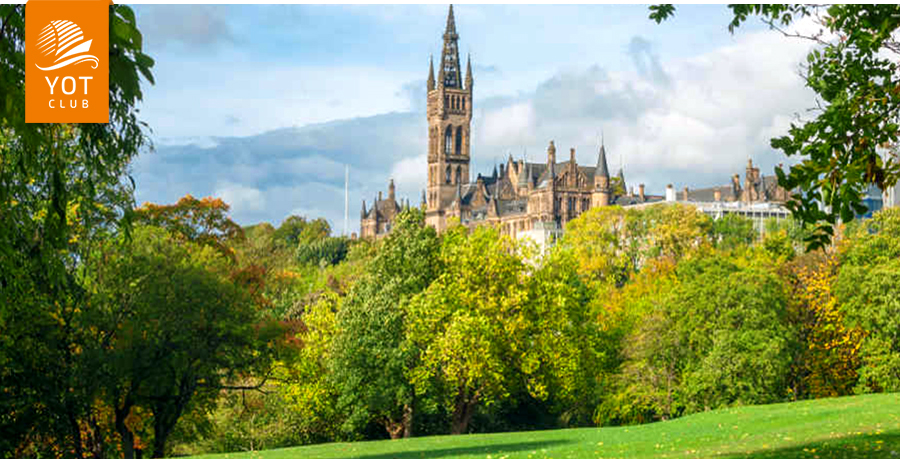 There is easy to reach transport between Glasgow, Edinburgh and Largs that travels the route often. Comfortable trains run every hour and buses go even more often. If you strongly oppose using taxis to get around, you can reach marina from Largs train station or bus station by foot in only about 30-40 minutes. Let's dive straight in!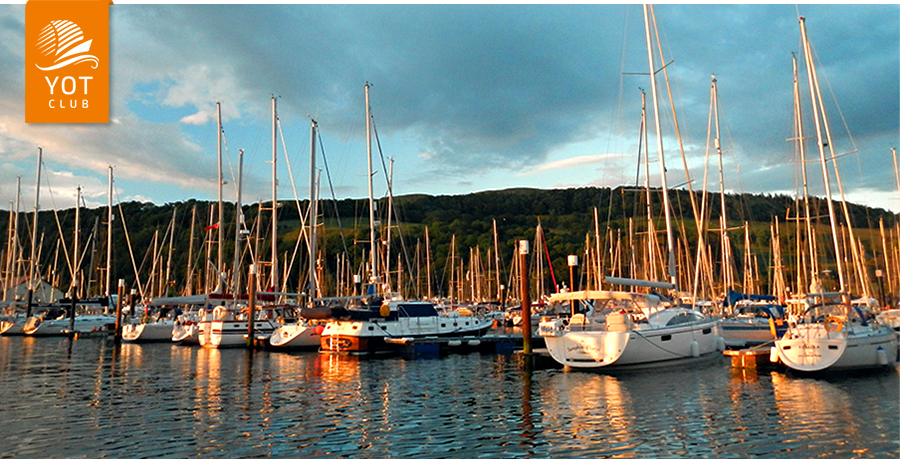 SATURDAY. GET READY…SET SAIL!
Captains will inspect the yachts and crew will take part in stocking up provisions. Once the vessel is ready, everyone have been accounted for, first briefing on board complete, the journey will start.
Largs – Arran. We will leave the marina at 16:00 to reach the bay of northern island near town of Lochranza together with the sunrise. By the way the island of Arran has some mystical properties attributed to it. There are ancient tombs and rings made of stone on this isle, which were used in rituals. We shall have a ritual of our own: we will moor our yachts at the buoys and while having a few pints enjoy the breath-taking scenery of sunset over Lochranza castle.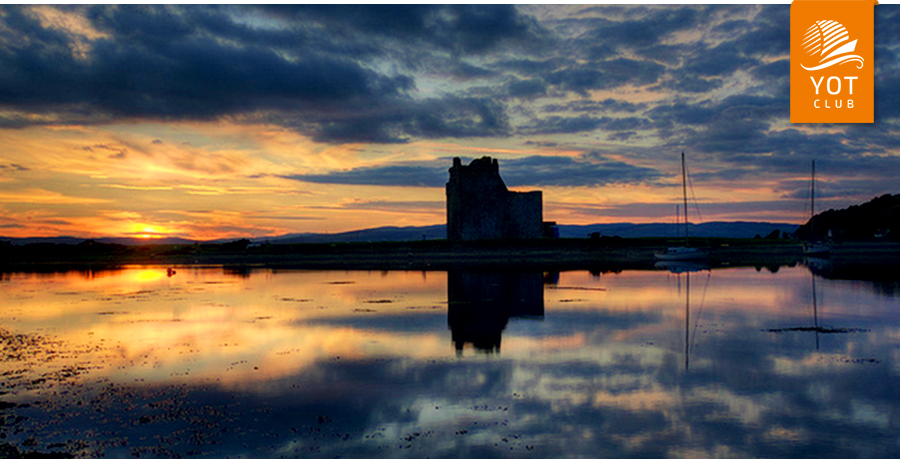 SUNDAY. 7 FEET UDNER KILT
First morning on the yacht, first breakfast at sea. Castle, deer and the distillery of Arran (the youngest of all to come) are already waiting for us ashore. This distillery produces one of the few whiskeys out there, which has no smoky peat shade to it. We are sure to take the first tour and first tasting, held by the manager of the distillery, wearing national Scottish kilt.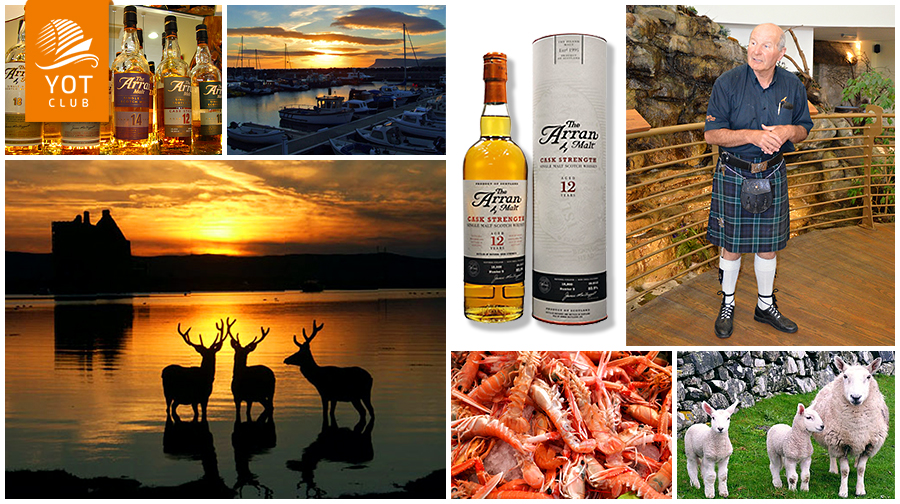 He will tell exactly how to drink whisky, how to savour it and tell us about the symbol of the distillery – the golden eagle which often soars in the skies in these parts.
Here you can try the "beer" from which the whisky is then distilled. Be very careful after all of these infusions, because it's hard to distinguish male form female toilets in Scotland based solely on the door sign…For more information about this whiskey, you can read on the distillery's website: http://www.arranwhisky.com/
We will head toward Campbeltown during lunch time. 20 miles, which will take us 4 hours. We wills sail past the Davaar Lighthouse.
Scotland in general is very rich with lighthouses. These brightly painted white giants always contrast with the lush greenery of the islands. Fishing ships often come back to port in Campbeltown and they offer a lot of tasty and inexpensive fish or local snacks – langoustines. Last time a bucket of shrimp weighing about 3 kilos cost us only 6 pounds. If there is no langoustine, you can buy some scallops. At this point, what we'll have will depend on how lucky the fisherman are…
MONDAY – TUESDAY. ANOTHER ONE!
Campbeltown – Port Ellen (Islay), 40 miles will take us 6-7 hours. The island of Islay is righteously called island of whisky. Its home to as much as 10 distilleries! I immediately recall famous Russian writer Zhvanetsky and his quote: "alcohol in small doses is harmless in any quantity…" Therefore, we leave early in the morning so that more time is left for "any quantities".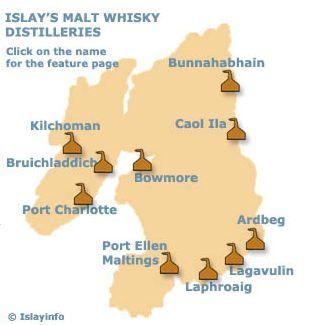 We will try and visit distilleries: Laphroaig, Lagavulin and Ardbeg on Monday.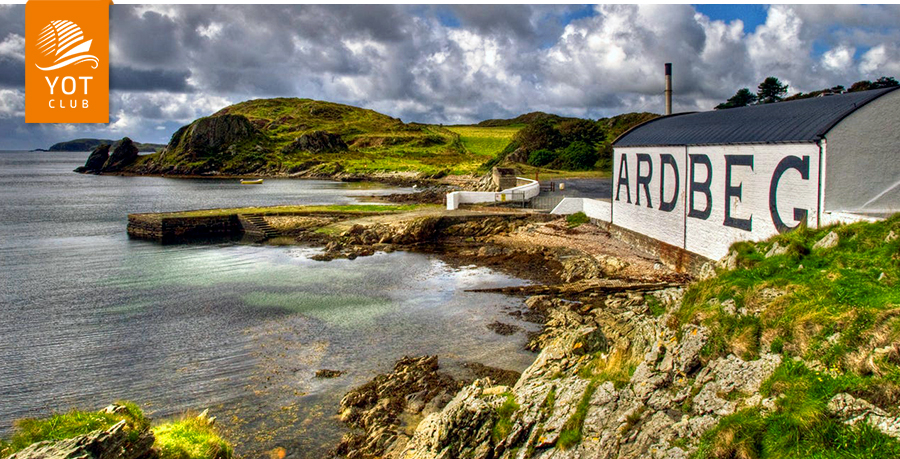 We shall start with the closest one: Laphroaig. You can rent a bicycle and reach it in 10 minutes, or you can negotiate with your feet and walk in half an hour. By the way, during the tour you can buy property in the UK! How? Fill out the form, become friends of Laphroaig, get a certificate indicating latitude and longitude of your own square foot. And then the ball is in your court. Take a flag and solemnly plant it in the grass.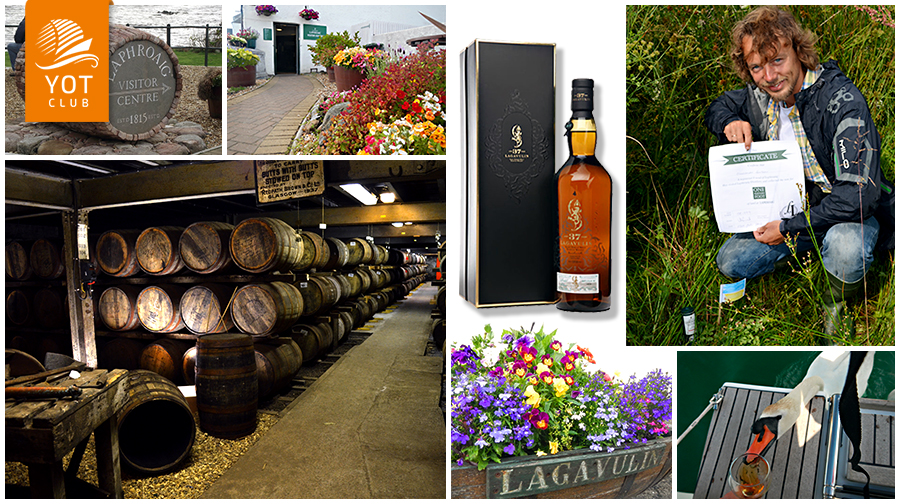 Lagavulin produces not only good whiskey, but also good impressions. You go into the tasting room, sit in a great armchair, your glass is filled and they leave you alone to be with your friends, your thoughts and a fireplace. If your glass becomes empty it is filled with more whisky and the bottle is left behind too. They don't take money for it, but after this kind of treatment, you want to buy something here – a branded glass or a bottle of a 16-year-old whisky. After all, it will be quite difficult to find Lagavulin whiskey later, even in Duty Free stores, as they produce it in limited quantities.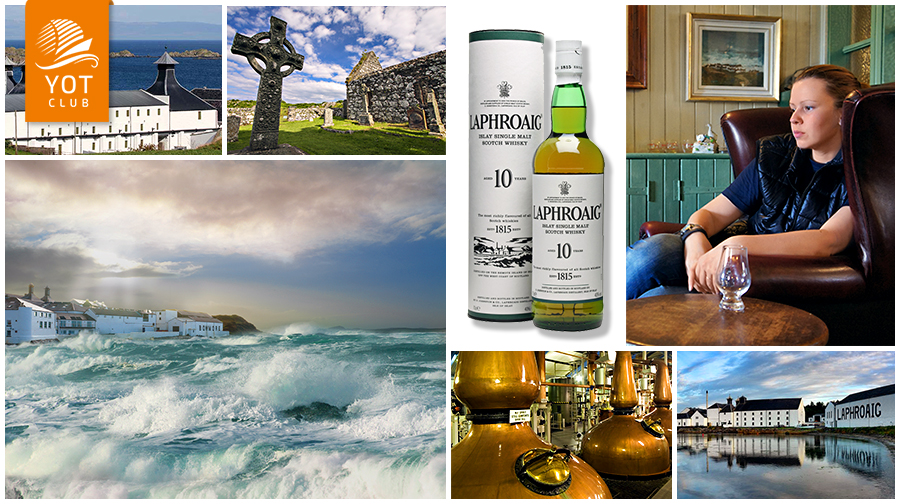 It seems that in Scotland, every household keeps a bottle of whisky in the cupboard just for a special occasion. Sometimes that special occasion is the fact that they have a bottle of whisky in the cupboard. The Bowmore distillery will have the most detailed tour of the production of this unique drink – from the extraction of peat all the way through all stages of distillation.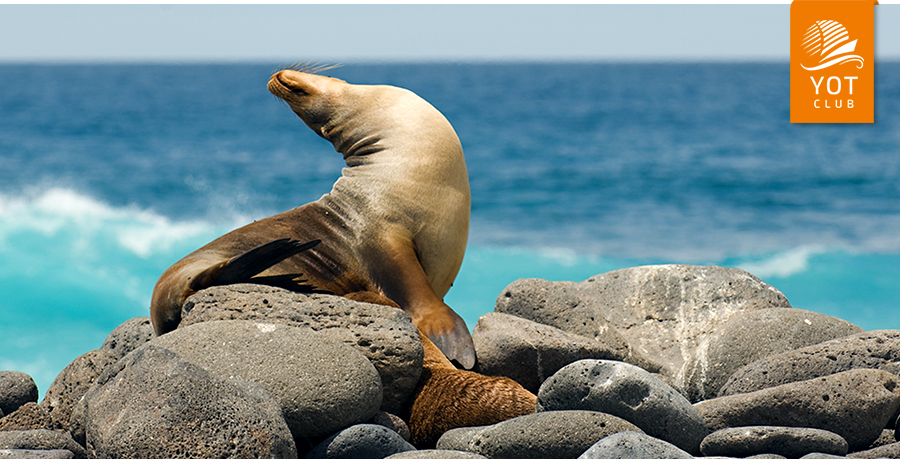 Almost all tours take place in the first half of the day. Therefore, it is better to choose in advance which distillers are of most interest to you. You can break up into groups in order to later exchange your impressions, and pour few more glasses. After lunch, you can rent bicycles and ride around the island. It's lucky that you cannot get a fine for riding a bicycle in a "whisky" state. Wild animals are often found on the island, including deer. Definitely no camels here, since Scots don't trust the animals that don't have to drink for weeks at a time.
For more information on the nature of the island: http://www.islayinfo.com/wildlife.html
WEDNESDAY. BIG PLANS FOR IRELAND
Bowmore – Ballycastle (Northern Ireland), this journey of 38 miles will take 7 hours to complete. Do you know the shortest English joke? The Irishman passes by the pub… that is actually everything, you can laugh now…
Bushmills is the only Irish distillery on our journey. After that, we shall have a grand dinner, because further we are embarking on the "path of giants" (Giant's Causeway).
The polygonal pillars with which the coast is paved, as if carved with gigantic hands. Some are too big to grasp. For those who are not bus-addicted, you can take a taxi, a bottle of the local Bushmills and enjoy these huge basalt six-sided "pencils" at sunset, when there are almost no tourists left around.
Let's not forget that that Ireland is the birthplace of Guinness. So we can set our own records for the consumption of this particular drink. By the way, on the previous trip, the variety and taste of ale impressed me no less than whiskey tastings.
THURSDAY. PERFECT FISHING DAY
We return to Arran, from the side of Holy Island. With a stop at the beautiful waterfall. When approaching the mooring of Holy Island, it is the perfect time and place to go fishing. As locals say: "you can't easily pull the fish out of … a bucket". Yes, the catch rate is a bucket per hour!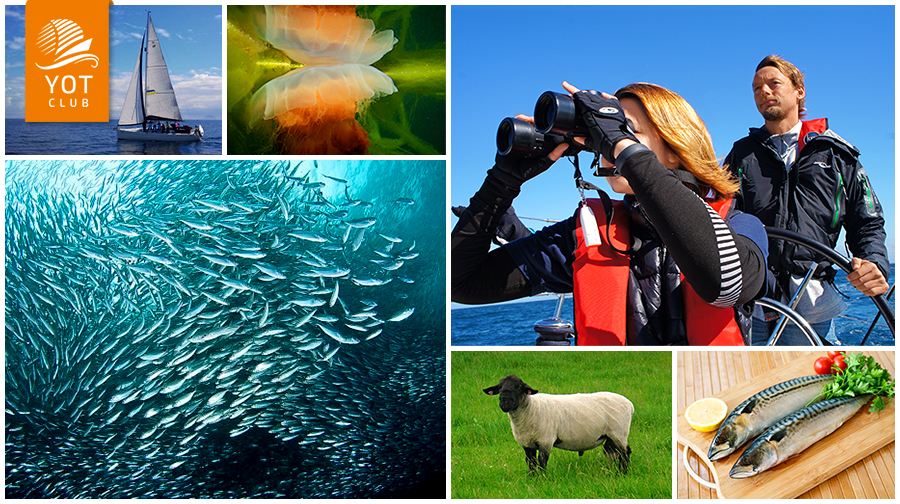 It was here, that last time we caught 35 mackerels in half an hour. And we had to stop simply because between three yachts we physically could not eat more than that. In other words we stopped to save our buckets from cracking from all the fish.
FRIDAY. MAXIMUM DISCOVERIES AT MINIATURE SCOTLAND
The island of Arran is rightly called miniature Scotland. There are mountains, plains, rivers, castles, a brewery and naturally, a distillery. And there is a type of entertainment for every taste. The place is so popular that tours must be booked in advance (preferably a week in advance, that is, even before the trip has started). Outdoor activities include: horseback riding, bicycles, sea kayaks, forest hiking trails, off-road riding on quad bikes and off road trucks, river rafting and for a lack of a better name: climbing mountain rivers against the stream! In general, loads of fun to have.
If you want a bit more refined way to spend your time you can choose to visit the Brodic castle.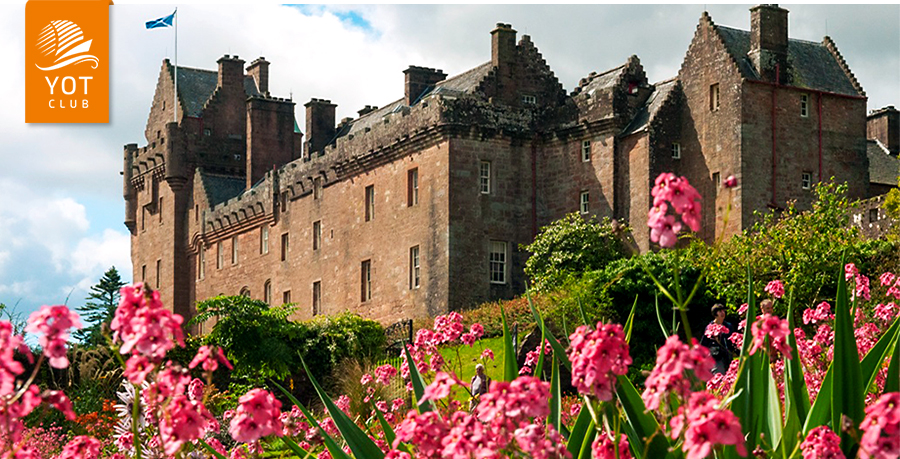 There is a pub next to the castle where they serve a great, locally on the island brewed, ale. There is also a pottery workshop and some woods to explore. Also, they make delicious cheese on Arran! The process of cheese making is open to visitors. So grab your cameras and say "cheese!".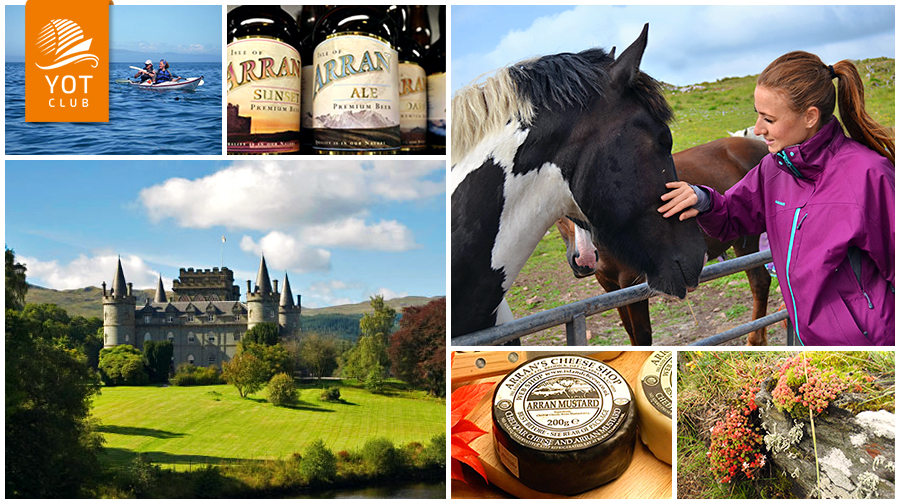 Local perfumes based on herbs are also offered as souvenirs. And when else to buy souvenirs, if not on the very last day?
SATURDAY. FRIENDS, DONT SPILL A DROP!
Holy Island – Largs, 20 miles only. We leave at 6 o'clock in the morning in order to moor at 9. But before we have to give the yacht away we do a mandatory photo session, which goes something like this:
As the Scottish saying goes: there are no people who do not like whisky, there are only people who have not yet found their brand. So let's go ahead towards new discoveries!
Welcome aboard!